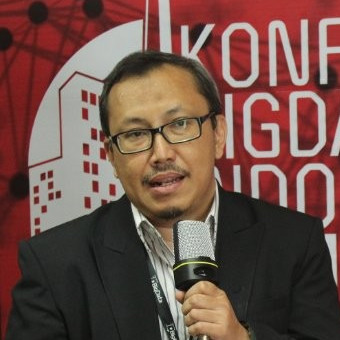 Oskar Riandi
Director of PT Bahasa Kita
Having more than 25 years of experience in research and development of automatic speech recognition technology, machine translation, text-to-speech synthesizing and automatic translation into voice (translation of speech to speech).
His experience has been acknowledged by receiving several awards, including:
1. Satyalancana Pembangunan (President of the Republic of Indonesia, 2010);
2. Indonesian ICT Award (Menkominfo, 2010);
3. Research and Technology Award (Menristek 2010);
4. Digital Creator Figures (PT Telkom, 2010);
5. Visionary Inventor (Ministry of Law and Human Rights, 2012);
6. Extraordinary Intellectual Property Award (Ministry of National Education, 2012);
7. 18 Flagship Children's Technology Works, Indonesian Source of Inspiration (Menristek, 2013);
8. 45 Innovative Actions of Domestic Children, From Ordinary to Extraordinary 2015 (Media Indonesia);
9. Nominee of Liputan 6 Award (SCTV, 2016);
10. Asia Pacific ICT Award 2010 Nominees;
11. Indonesia ICT Award 2008 Nominator;
and other awards.